Telecaster Product Brief circa 1951
---
The Telecaster guitar was developed by Leo Fender and George Fullerton in the late 40's. It was one of the first solid body electric guitars. It's an incredibly original piece of industrial design.

Below is a scan of a product flyer from 1951 for the original Telecaster. The flyer appeared in trade magazines and as an insert in the Fender catalog. It highlights the features of what at the time was a brand new kind of instrument. The flyer makes for fun reading. It's amazing how little the Telecaster has changed.

Click here to see a higher resolution image (500K bytes).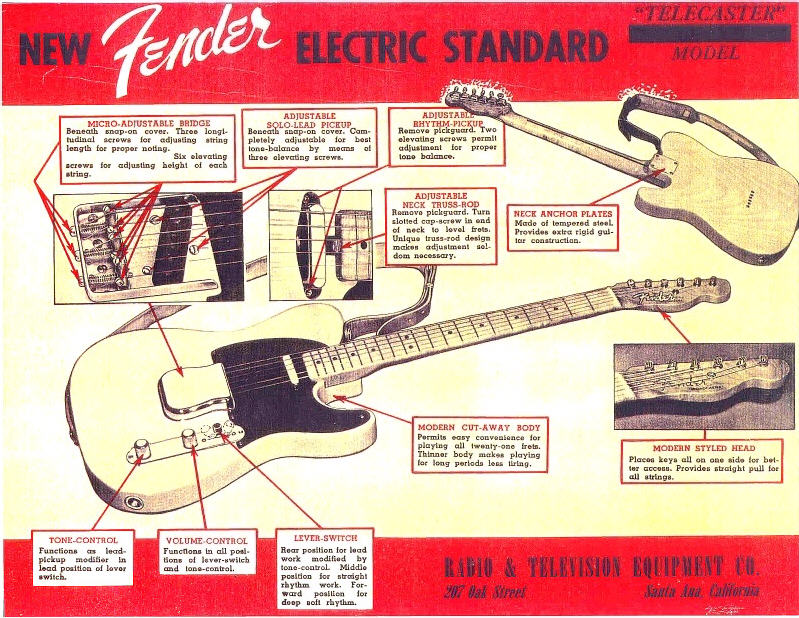 Interesting Details
The guitar was originally called the Broadcaster but Fender was forced to rename it because that name was already taken by Gretsch. The Broadcaster name at the top of the page has been blacked out and replaced with Telecaster. The closeup of the headpiece still has the Broadcaster logo.

The original pickup and control combinations were pretty imaginative. The "Tone-Control" is actually a "Blend-Control". With the pickup selector switch in the rear position the bridge pickup is selected and the "tone control" blends in the neck pickup. In the middle position the neck pickup only is selected. The forward position selected the neck pickup with the tone heavily rolled off for a "deep soft rhythm" sound. That's pretty different from modern combination of bridge, bridge+neck and neck! It goes to show how non-obvious the design of the modern electric guitar is.

In 1952 the wiring was changed. The tone control became a true tone control and the three pickup combinations were: bridge pickup with tone control, neck pickup with tone control and neck pickup with "deep soft rhythm. It wasn't until 1967 that the wiring was finally modified to the modern configuration.

They point out that there is an adjustable truss-rod. For simplicity and cost the original prototypes were designed without a truss-rod, but one was added when it became apparent that a truss rod was necessary.
They point out the "Modern Styled Head". The Fender headpiece is now so ubiquitous it is easy to forget how unique and unprecedented it was when they designed it.
I'm surprised they don't point out the bolt-on neck. It was quite an innovation. It's simple and cheap to manufacture and it makes repairs easy.
Patents
There are many cool Telecaster-related patents. 2,573,254 is Leo Fender's Telecaster bridge pickup patent. 164,227 is the Telecaster Design Patent.
visits since April 24, 2002